News
guides
29 May 2023, 16:00
Explore Sacred Silver Mine in V Rising
Secrets of Gloomrot not only added new areas to the game but also updated some old ones. Here you will learn more about what can be found in Sacred Silver Mine in V Rising.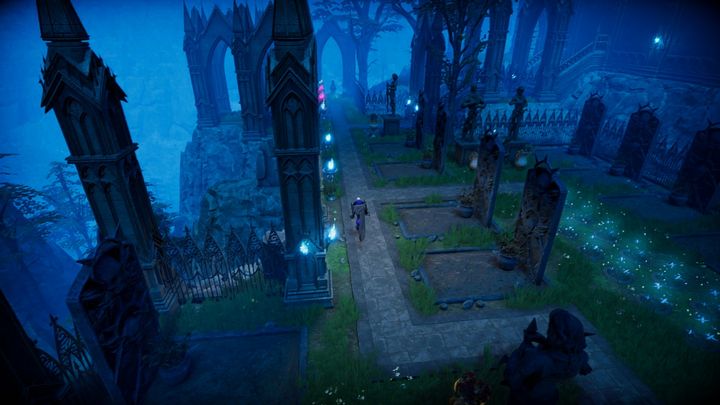 Source: Stunlock Studios AB
i
Secrets of Gloomrot is the first big content patch for V Rising. With long list of changes and additions, the most significant of them can definitely be two new regions – Gloomrot South and Gloomrot North. The update not only added new areas but also modified some old ones. One of the changed areas is Silverlight Hills, where Sacred Silver Mine is found. Here you will learn more about the mine.
How to enter Sacred Silver Mine in V Rising
The place is located on the west of the world map. The gate to the location now is shut tightly so players are required to go around the gate, following the path situated on the right hand-side of the entrance to the mine. The road will lead to a spot, where it will be possible to jump down to the mine. From there it is necessary to navigate to the front gate location and use a crank or approach the entrance to unlock it. It is possible to open the main doors without fighting the boss that's guarding the nearby perimeter – Sir Magnus the Overseer (level 66).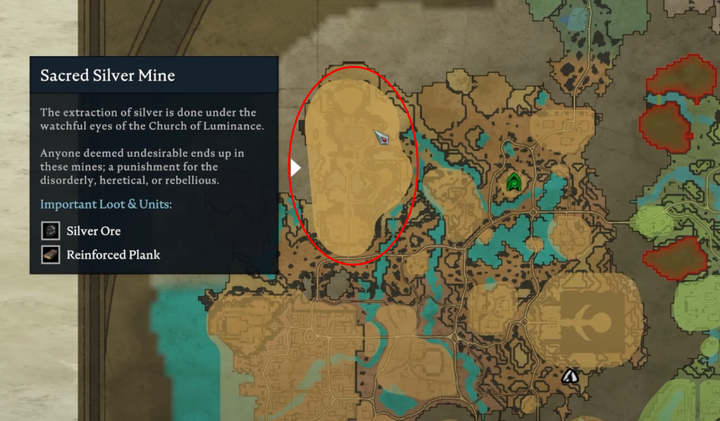 Sacred Silver Mine location on the map
Sacred Silver Mine in V Rising
Sacred Silver Mine is a 60+ level area, so it's best for low level characters to stay out of this place until adequately levelled up and properly equipped. The Secrets of Gloomrot update themed the location as a Slave Mine governed by the Church of Luminance.
Even though the Silver Ore material can be found around in the world, the Sacred Silver Mine is the best place to farm it. The ore is required to produce Dark Silver Bar (4x Spectral Dust, 20x Silver Ore), which is further used to craft Dark Silver gear. To be able to extract Silver Ore from Silver Ore Nodes, you have to be equipped with at least Iron Weapon. Bear in mind that carrying around the Silver Ore can damage your character so make sure to prepare Silver Resistance Brews or Potions. Sacred Silver Mine is also a good location to loot Sulphur Ore as well as Reinforced Planks.
The patch introduced new V-Blood Boss in the mine area, aforementioned Sir Magnus the Overseer. Defeating this enemy and extracting his blood unlocks the frost ability called "Ice Block" and Tier 3 Cloak recipe.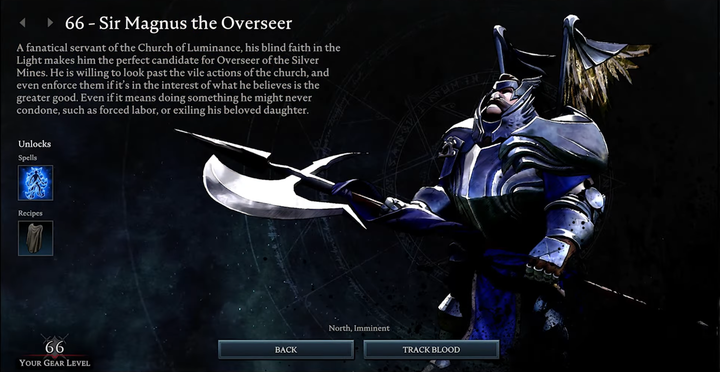 One of new bosses in V-Rising – Sir Magnus the Overseer
V Rising Gloomrot Guide
We have prepared a guide that explores the significant mechanics introduced in the recent update. To learn more about them, we invite you to refer to the V Rising Gloomrot Guide. You can find there information about variety of new resources, formidable bosses, and other thrilling elements that have been incorporated recently.
If you want to learn more about V Rising, check also: